Odisee Gent welcomes us in their facilities near the city center of Ghent.
Odisee Technologiecampus Gent
Gebroeders de Smetstraat 1,
9000 Gent
The venue can be reached easily by public transport, on foot, or by car. Detailed information can be found on their website.
The location is fully wheelchair-accessible.
Entering the venue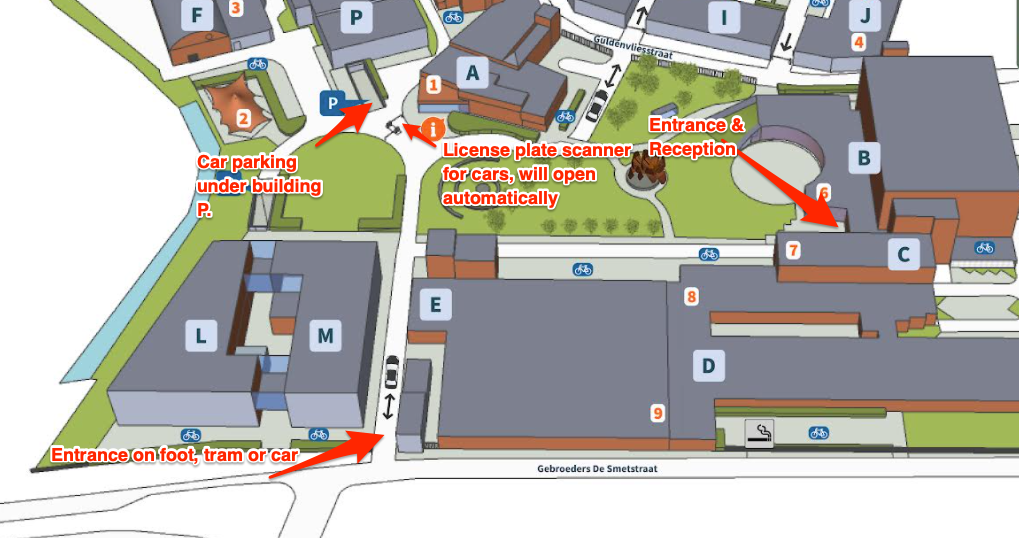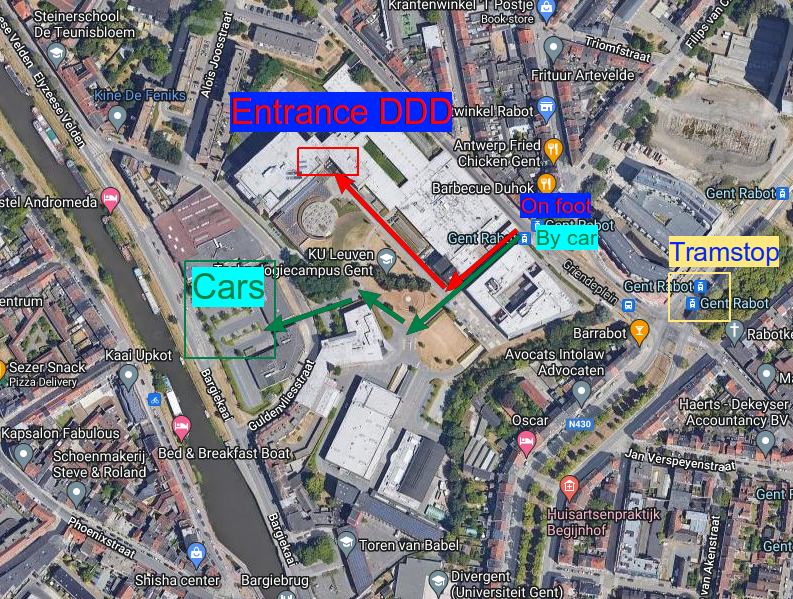 Access by public transport
By plane
The city of Ghent does not have an airport, but is easily accessible from Brussels Airport by train in about an hour. The train will take you directly from the airport to Ghent Sint Pieters train station, which is a short public transit (by bus or tram) ride away from the venue.
Note: When travelling from / to Brussels Airport by train, you will need to pay a "Diabolo fee" suppliment on top of your train ticket.
Alternatively, you can fly to Brussels South - Charleroi airport. The fastest way from this airport to Ghent is usually by taking a bus. Flibco provides bus shuttle services between Ghent and Charleroi airport. Travel time is estimated to be 1,5 hour, depending on traffic conditions.
By train
The easiest way to reach the venue is by getting a train towards Gent Sint-Pieters station, Ghent's main railway station. Afterwards, a short bus or tram-ride will get you delivered to our doors.
By tram / bus
Tram 4 direction "Rabot"  get off at the stop : "Rabot", this tram starts at Gent Sint-Pieters.
Check the tram / bus route tables and ticket prices.
Note: these tickets can be used for both tram & bus, but not for trains. Tickets can be bought with cash at several locations or contactless with Maestro/MasterCard/Visa.
Access by car
The campus is reachable by car coming from the E40 or E17 highways, via the R4 ringway around Ghent.
Parking
There are a limited amount of parking spots at the venue. We prioritize those for organizers, sponsors and people with a disability.
Therefore we strongly recommend you use public transportation to get to Drupal Dev Days Ghent. It will be less expensive and better for the environment!
Low-emission Zone in Ghent
The venue for Drupal Dev Days Ghent is within the Low Emission Zone of Ghent. So, if you plan to come by car and might enter the city centre (e.g. for social events), be sure to read the following information, to avoid fines.
Since 1st of January 2020, the city centre of Ghent is a Low-Emission Zone, which means only vehicles that meet the conditions are allowed to enter the city centre of Ghent. Vehicles that do not meet the conditions, need to buy a permit. IMPORTANT: Foreign vehicles need to be registered always, even if you drive an electric car for example! This can be done via an online tool. If you registered for the LEZ in Antwerp, you do not need to register again. In other cases, you most likely will need to register.
Check the official website for the low-emission zone for more information.
Staying in Ghent
If you've never spent the night in Ghent, you've never really experienced the city. Ghent shines day and night. When the sun goes down, Ghent is transformed with fairy-tale lighting. Find B&Bs, design hotels and distinctive boutique hotels, no-frills hostels and chic apartments in Ghent at the visit.gent.be tourism site or book directly from the Ghent Hotels website.
Historical City
The city center offers a very rich cultural heritage. Saved from major conflicts and wars, the town could preserve many medieval houses, churches and monuments, including a fortified castle. The skyline is dominated by the so called three towers; that of the Saint-Nicolas church, the Belfry and the Saint-Bavo cathedral. Two rivers (Leie and Schelde) crawl through the city, shaping harbors, banks and bridges, and finally meet at the port of Ghent (the place where the city was founded).
Vibrant Urban Life
The citizens of Ghent are known for their open minded spirit. They like to organize events that bring people together, no matter what cultural or social background you might have. The highlight of this are the famous 'Gentse feesten', a yearly 10 day city festival in July. But also throughout the year there are many events that are going on.
Incubator For Technology
Ghent is home to some of the largest universities in the country, from which many initiatives and spin-offs are generated. It's also home to many industries and as such an ideal meeting place for business.